The latest from ADKHunter…
It's Fall (Sort of): With the meteorological summer behind us and the earliest of the hunting seasons opening (Squirrel season began Sept. 1), it is now safe to say that Fall is here. Or is it? The weather forecast for early September is less than Fall-like with many folks saying "here we go again." Last year, on opening day of the Northern Zone archery season, it was so warm that I entered by my bow-hunting blind wearing a mesh camo guile suit over shorts, a t-shirt and crocs. I know it was hunting season, but the feeling just wasn't there. I never went out again until nearly a week later when the temps finally dropped and I felt comfortable not only sitting in a blind or tree stand, but also with not having to worry too much about spoiled venison courtesy of steamy fall weather. I'm praying we don't have that again this year, but so far am not getting my hopes up.
Things happen fast in the hunting world this time of year. The early bear season in the Adirondack region opens on Saturday, Sept. 15 and a few days later the grouse season does the same. And of course, the archery deer season begins on Sept. 27. Along the way are a number of waterfowl season openers and youth hunts. It may not feel like Fall, but Fall is coming and as hunters I know many of us are preparing for it in one way or another.
-Dan'l
DEC's Summary of 2018-19 Hunting Seasons
PS: Here's a few interesting graphics for your enjoyment.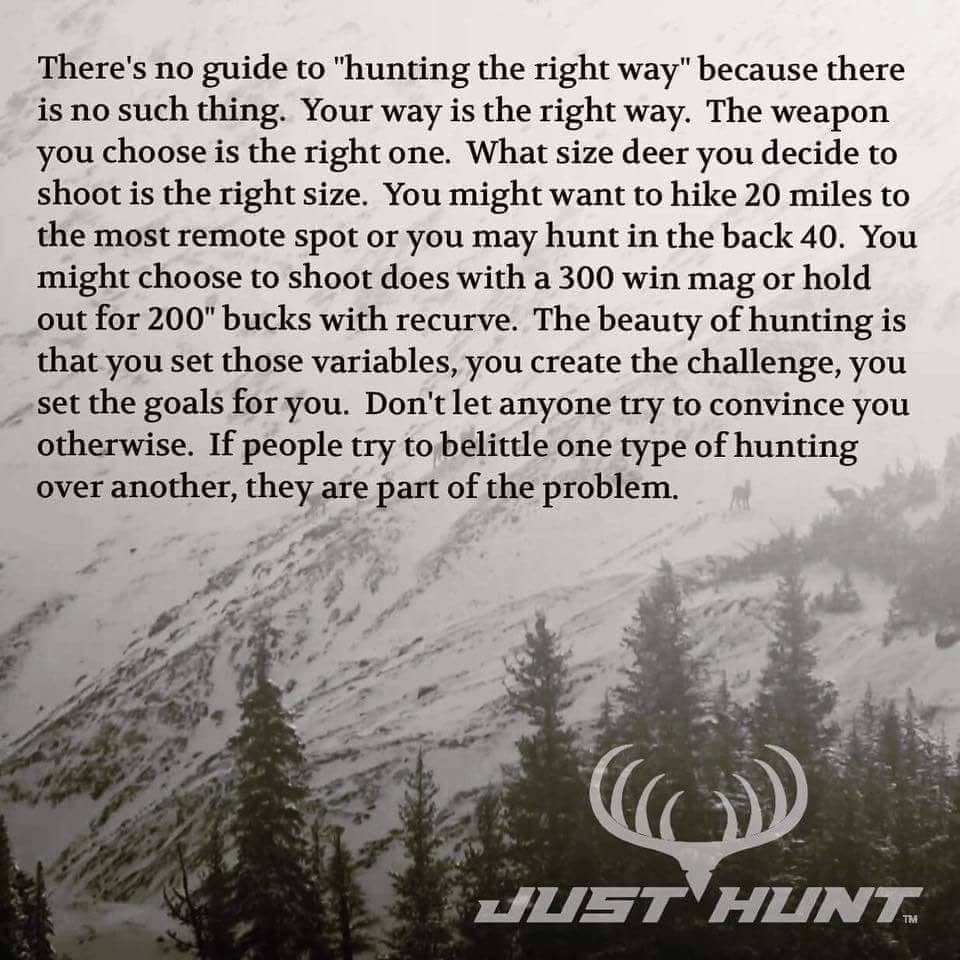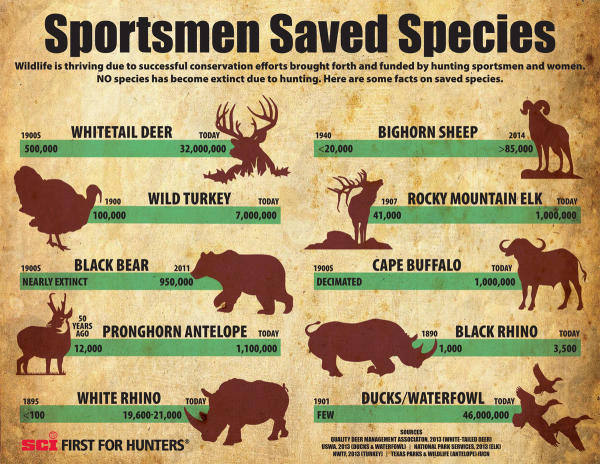 Don't forget to check out our Facebook page.

Read on for more info and last season's hunting reports…
---
Justin Webb's shot and eagles he captured a photo of on an ice fishing trip
2017 Hunting Reports
(12/17): Another Season in the Books: As I write this there less than two days left in the Southern Zone muzzleloading season, which just about does it for deer hunting in most of New York. Since our last report, just before the final weekend of the late muzzleloading season, much has changed. First, it was a pretty good final weekend for those who had the opportunity to hunt that last weekend of muzzleloading season. It felt more like November than December, but that quickly changed with last week's snowstorm, which surely had to change the whitetail behavior pattern.
(12/6) Last Call, Part 2: Deer season is over in a good portion of the Northern Zone as only those WMU's on outside or within the perimeter of the Adirondacks are open for the late muzzleloading season. After some rain and warmer weather early this week, things are about to change. Although it's supposed to cool off and perhaps be a little windy, another seasonal hunting weekend appears to lie ahead.
Late season hunters are reporting a bit of slow-down in deer activity, which is natural as the rut winds down and winter starts to ease in. There are still plenty of bucks out there and if you are going out with the muzzleloader, think about the shape your local deer herd is in before you pull the trigger on an antlerless deer. Some areas are in better shape than others. Hopefully you've got some venison in your freezer already. Good luck, and enjoy the rest of the deer season.
(11/29) Last Call, Part 1: Man, deer season goes by so fast. One day it's mid-October with plenty of daylight and lots of promise ahead, the next it's December and deer season is segueing into the holidays. Not to say "I told you so," but the thought that the late season this year was going to heat up again has come to fruition. Several Adirondack bucks have fallen to hunters in just the past week (see our photos) and our group saw bucks each of the four days we hunted over the Thanksgiving weekend, along with plenty of fresh buck sign, especially rubs. A few of those bucks are now in the freezer (photos forthcoming). With fall-like weather, this weekend should be another good one and there's a waxing moon to boot. Then, for some of us, there's another week of muzzleloading hunting which this hunter is really looking forward to. So give it one more good, hard hunt this weekend and make the best of it. Soon enough, we'll be sitting around waiting for next year.
(11/22) Thanksgiving Hunt: It's that time of year when history and tradition meet in the deer woods all across America. Thanksgiving Day is one that brings family and friends together and for hunters it usually means some time in the morning spent in the woods. The timing might not be better. As one can see by looking at the harvest dates of the Adirondack bucks in the latest photos, some real fine bucks have been taken in past ten days; as is typical of mid-November. Our group spent a few days in the woods last week after missing the better part of two weekends while hunting in northern Maine (more on that, another time). We found plenty of older scrapes, a few fresh ones, and several very fresh rubs, which told us bucks were around. Unfortunately, we did not catch up to any of those bucks. Still, as we've said in previous reports, the remaining week-and-a-half of this Northern Zone rifle season could be fantastic. The bucks are out there, the weather is looking cooperative, it's just up to us to find them. Good luck, and Happy Thanksgiving!
(11/16) North or South: Many hunters, even those from the Adirondacks, will head "south" this weekend for New York's opening day in the Southern Zone. Perhaps it's for the opportunity to score some venison for the freezer or even to take a break from mountain hunting. Some of us, however, will remain in the Adirondacks. Finding a place to hunt in the Southern Zone can be difficult but that is not the case in the Adirondacks where there is nearly three million acres of public land in the form of the Adirondack Forest Preserve.
So far, this has been a very strange fall and likewise, a strange whitetail rut. A month ago, at the dark of moon and during the early muzzleloading season, many hunters throughout the Adirondacks (including this one) observed a surprisingly high amount of rubbing and scraping activity. Around late October and early November a number bucks were killed or seen right on the tail of a doe. Then, it seems, things cooled off. Still, there's been a good number of bucks killed in recent weeks, as is typical of mid-November, but many hunters are still scratching their heads and wondering where the rut is. Perhaps it's a slow rut that is taking place right in front of our very eyes? This hunter is wondering if there's going to be repeat later this month of what transpired earlier in the season. If so, get ready, because it could be the best part of the hunting season, especially if the weather cooperates.
For now, we're on to Weekend No. 5 of the Northern Zone season with two to go, plus another week of muzzleloading season in some areas. After Thursday's rain and snow event, a dry Friday is in store with some wet weather in the forecast for later Saturday and perhaps early Sunday. Then it's looking pretty seasonal right through to the Thanksgiving holiday. Wherever you are hunting in the days ahead, have fun and hunt safely and remember; the buck you're looking for could be just over the next ridge.
(11/13) Prime Time: It's amazing what a little snow can do. Along with a coinciding change in the temperature the covering of snow brought on late last week was certainly beneficial to Adirondack deer hunters. Reports and photos from hunters certainly proves it, although things have really turned on since early November. Some may attribute this to the Nov. 4 Full Moon and the belief that it triggers the rut, others will just say it's a more favorable weather pattern. To this hunter, it doesn't matter. Whatever the case, this graphic and report from DEC shows a roughly 10-percent increase in the Northern Zone harvest through Nov. 8 of this year.
Actually, reports of buck sign to seem to be dwindling. We'd like to say we could report on it ourselves but last week we were in Northern Maine, trying to track down one of those 200-pound Maine bucks. It didn't happen, although we did have some luck, and much more importantly, we had a great time with good friends and family while enjoying a different area and much different style of hunting than what we're used to.
If you've got some time to hunt this week, then good for you. Mid-November is always a good time to be hunting the Adirondacks, so get out there if you can. The weather looks favorable, but it might not be all that quiet. Later this week, when the Southern Zone opens, some wet weather does appear to be coming in. Many hunters will be heading south this weekend, and with a filled tag, this one may spend some time down there himself. Good luck, and please keep the photos and reports coming. Go get them bucks!
(11/9) Peak Weekend: It's hard to believe that we'll cross the half-way point in the Northern Zone big game season this weekend. Peak weekend is typically one of the best of the year. With temperatures dropping, along with some beechnuts and acorns, and the rut really getting going, the word "Peak" has many meanings. Now is the time to hunt, if you can. Some dandy bucks are being taken and rubbing and scraping activity were still hot this past week. Good luck, and keep the photos and stories coming.
(11/2) On the Move: This weekend is shaping up to be a good one. In between warm weather on Friday and Monday will be a temperature drop that should prove interesting in the deer woods. Whether it's just the early phase of the rut kicking in or deer movement before the impending storms earlier this week, things are happening in the deer woods in the North Country. A number of buck photos have flowed in as well as reports from hunters citing plenty of deer movement, including bucks following does. The good news about the storm is that it brought down a lot leaves and visibility is starting to come around, although there's still quite a bit of green on the underbrush, especially in the southern and foothills of the Adirondacks. Of course, there's also a lot of excitement about Saturday's (Nov. 4) full moon and the impact they may or may not have on hunting. Either way, with the coming of November we all know that can only be good for deer hunting.
(10/26) Week 2: We hope everyone had a fun opening weekend despite the warm temperatures across most of the region. A surprising amount of rubbing and scraping activity is going on to start the season. Our opening weekend group was small but we did manage to push some deer around and nearly put a few on the meat pole. I actually saw a smaller buck that dashed through a window of visibility. I may or may not have pulled the trigger but it would've been nice to have a little more time to decide. But, that's hunting as they say and the tag remains in my wallet.
Meanwhile although projected to be cooler this weekend than in last, things are still looking quite warm for the "Second Week of Deer Camp" in the Northern Zone. Although, there is a possibility that Sunday could be a wet one. One thing about the rain we're getting this weekend early next, the moving barometer should trigger some deer movement and make for some great hunting.
(10/20) Heat Wave: Everyone is cussing about the warm weather an the impact, thus far, on deer season. Deer, with their winter coats intact, simply don't move much in warm weather and I don't know about you, but for me, I just don't enjoy the heat either. I'm a hunter who is usually on his feet. If I'm with the group, we are making deer drives and if I'm hunting alone I'm usually stalking or still-hunting. I've been out doing some that this week during the early muzzleloading season and it has been tough. There's been ticks, briars, plenty of leaves and lots of sweat. But, I took the time off and wanted to get some scouting in as well. I did find plenty of acorns, some beechnuts and even a few rubs and one scrape. Visibility is tough out there right now an will be until we get some cold weather and some rain. Make the best of it, enjoy opening weekend and hunt safely.
---
(10/11) Let's Go Deer Hunting: It's hard to remember an autumn as warm as this one has been and for the most part, it is impacting hunters who simply don't enjoy the warmer temperatures. Many question what they'd do with a deer if they got one. We feel real bad for the young hunters who endured the heat for last weekend's youth hunt.
But it's not all gloom and doom. As you'll see from the photos, a few young hunters as well as some bow hunters have been putting the time in and connecting. Now, crossbow season is here and this weekend is opening of the early muzzleloading season in the Adirondacks. If you hunt WMU's 6F and 6J in the Adirondacks, or 6N in the Tug Hill region, remember that these units are buck only. Good luck, hunt safe and be sure to send us your photo and reports.
---
(9/28) Hot Start: I'm sure I wasn't alone in adventuring out for the Northern Zone archery opener on Wednesday morning. But, I didn't last long. Once the sun broke over the horizon and hit the landscape the mosquitos quickly descended on me as I sat in a blind. In no time I was sweating although all I was wearing for camo was a gilly suite made of camp netting over shorts and a t-shirt. This hot weather we've been having makes hunting obviously difficult. And although it's going to remain warm, at least there will be some drop in the temperature which could get deer moving over the weekend.
Meanwhile, we finally got reports of some successful bear hunters out there, which has also been tough hunting in the heat. Come Sunday, the several small game seasons open, including Wild Turkey in the Northern Zone and archery for deer in the Southern Zone. Hunt safely, and let us know how things look in the woods, especially with buck sign and beechnuts!
---
(9/19) More Seasons: This is a great time of year for hunting in Northern New York. The Early Bear season opens in the Adirondacks on Saturday, Sept. 16 and the real news here is that there is somewhat of a beechnut crop out there. The mast is not everywhere, but earlier this summer reports came in from the central Adirondacks and recently we've heard from hunters in the eastern ADKs too, of some beechnuts. Currently, there's some acorns and apples too. Good luck out there this weekend and please send us a photo and/or report on your hunt. For small game hunters, grouse season opens on Sept. 20 and the early archery season for deer (Sept. 27) is now less than two weeks away.

---
(9/1) Happy New Year: It's a new license year and the opening day of a pair of hunting seasons in New York as small game and waterfowl hunting begin. Both squirrel and Canada goose season get under way. The best part of it is that it's going to really feel like fall in the Adirondacks for most of Labor Day weekend, if not a little wet from what was Hurricane Henry. Soon enough, the Adirondack Black Bear season will open on Sept. 16, grouse on Sept. 20 and the archery season for deer on Sept. 27. It's that time of year!
---
PS: Don't forget our Facebook page
Here's a shot of bull moose taken July 10, 2017 at Cedar River Flow by Dan Ladd of ADKHunter.com