The latest from ADKHunter…
Last Call Part II: What's left of deer season in the Adirondacks, and where it's left, looks to be a repeat of last weekend. Warm weather is expected to move into the region on Friday, and especially Saturday with another big rain/snow storm set for Sunday. So much for keeping the powder in the smokepole dry on the final day.
Haven't heard much from hunters this week so it seems like a quiet late-season has been the story. Some have reported seeing deer on their trail-cams posted in migration areas, so perhaps in the interior of the Adirondacks (which does not have a late muzzleloading season), where there is more snow than anywhere else in New York, is seeing the whitetail herd head for their winter yarding areas. Otherwise, deer seem to be on food sources where you can find it, although I did find one scrape earlier this week that had been made some time in recent days prior. Good luck this weekend, and remember, you can't kill a buck if you're not out there.
---
Photos: We certainly welcome your hunting photos of big and small game from the Adirondacks and Northern Zone. Email them to buck@adkhunter.com. We also encourage all New York hunters to share their photos with New York Outdoor News. Submit your Reader Shots here: https://www.outdoornews.com/new-york-reader-shots/ Also, consider participating in the Outdoor News Best Buck Contest. This is not a big buck contest, but a quality photo contest. So take some good shots of your harvest and enter them for a chance to win some great prizes. Here's the details:
---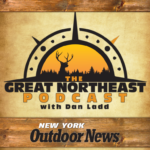 We'll check in every week now that deer season is here, but things remain busy as usual with New York Outdoor News and the Great Northeast Podcast is now on Apple Podcast. Check it out when you can, as we'll have plenty of deer hunting content in the weeks ahead. We drop a new episode every two weeks, the latest being Ep. 30 – Beginning Deer Hunting.
–Dan'l
---
(Nov. 30) Last Call Pt. 1: Deer season just goes by too fast. It's hard to believe the seventh and final weekend of rifle season is approaching. Many hunters will tell you it's been tough, as limited food sources have deer scattered. But it seems that if you find a pocket of deer then you are in good shape. Let's see if this past Monday's full moon triggers any late-season, or second rut activity. We've seen it happen before.
Wet weather looks to be the theme for the weekend, not a bad thing. Perhaps some snow in the higher elevations and some soft ground for the rest of us. The good news is that other than late Friday, it doesn't look to be a complete washout. Hunt hard, and hopefully your season will end with success. Then, for some of us, we're on to the late muzzleloading season. More on that, next post! Good luck this weekend.
(11/26) Venison & Turkey: First, a belated Happy Thanksgiving to all. We you were able to get out and enjoy some hunting time during the extended weekend. A Thanksgiving-morning hunt is a tradition of the Iron Sight Gang and this hunter has never missed a Thanksgiving Day hunt, ever!
Depending on who you ask, deer hunting in the Adirondacks has been feast or famine, the reason being widespread food sources. If hunt an area with beech trees, be sure to check things out. Even if the nuts fell in limited quantities or earlier this year, deer are hitting these areas looking for any leftover nuts. Otherwise, some hunters are saying they're finding deer down low, especially there are ferns.
After the holiday weekend, the weather for the season's final week is looking favorable, if not a bit dry. Perhaps some high pressure and Monday's full moon will help trigger some late season action.
(11/8) Peak Weekend: What a difference a break makes. For the first time since taking the reins at NY
Outdoor News in 2020, I took a vacation; a hunting vacation, of course. It was back to Maine for some of us from the Iron Sight Gang, visiting our good friend Randy Flannery of Wilderness Escape Outfitters. The hot hand was our own Phil Parker, who scored on both a buck and a bear. Although it was warm, we had some snow for tracking early on and spend an entire day following a buck that was on a feeding mission. We never caught up to him, but we learned a lot.
Back in the Adirondacks, some bucks are starting to fall. Seems the change in weather around Halloween, and the post-full moon seemed to kick things into action. Our crew who didn't go to Maine had a couple of missed opportunities but found some scrapes and a few rubs. Today (Nov. 9) some snow has hit the region. Not sure how long it will last but hopefully some hunters can take advantage of it before things warm up again, which appears to be the case in the week ahead.
Meanwhile, here's a few photos that have rolled in. Good luck this weekend, which is usually a good one, as we're about to reach the half-way point in our season, already!
(10/26) Hot Hunter's Moon: If you're one of those hunters that strategizes your hunting around lunar theories, then you likely are planning to spend as much time in the woods over the next week or 10 days as possible. The full Hunter's Moon is Oct. 28 and many-an-Adirondack buck has been taken around Halloween. Better yet, after some extremely warm weather, things are supposed to change temperature-wise as a front comes through, with many areas expecting their first frost mid-week. Not bad for hunting conditions, with the exception of the underbrush.
We're hearing of a few bucks being taken during the early season, but not a ton of buck sign. We found some rubs and a few scrapes ourselves, but nothing to indicate any increased level of rut intensity. We'll see what happens next week when the temperature drops. Good luck out there!
(10/18) Opening Day: Greetings Hunters. Another busy fall is under way, and a warm one too. As I write this we're just a few days from the Northern Zone opener and just about through the early muzzleloading season, which has been quiet (and again, warm). The quiet part is all on me/us as we spent the weekend in some old haunts we haven't hit hard in recent years, mainly because of gypsy moth infestations. We thought we'd start there this year and see how things looked. The bad news is there were no acorns, or deer. The good news is that we should feel fortunate that most (but not all) of the trees looked healthy and therefore our fingers are crossed for the years ahead. There is still some old ground to cover in these early weeks of the season.
As we approach the opener rain is obviously the topic of discussion, it looks like most of northern New York is in for some heavy downpours late Friday, throughout Saturday and into Sunday. Things have a way of changing, so we'll see. One thing for sure is that the rain and wind that is supposed to accompany the end of the storm should bring down some leaves and provide some visibility in the woods. Still, many areas have yet to have a hard frost and there's a lot of green amongst the underbrush.
As for buck sign, we're hearing reports of some rubbing activity and actually found some myself this past weekend. And, I just found the first scrape of the season this morning. Lunar supporters say things could happen early with the Oct. 28 full moon. But another warm-up for the end of October may play a role as well. Either way, it's the hunting season we wait all year for. Forget about keeping your powder dry, just keep your butt dry, and enjoy!
10/6 – Turning Down the Heat: So far, our Northern Zone bow season has been off to either a wet or warm start. But that's about to change. The storm that will likely wash out some youth hunting opportunities this Saturday (Oct. 7) will also bring a quick cool-down. This should get deer moving, especially once the winds die down after Sunday. So we hope it will help get some young hunters a crack at a deer and some bowhunters some action as well. Oct. 11 users in the crossbow season and Oct. 14 is the start of early muzzleloading, so things are happening early this year. Rumor has it, that will be the case with the rut, but we'll have to see what happens. We're hearing of some pretty good acorns out there and some beechnuts as well, although they seem to have dropped early. Let us know what you're seeing in the woods and good luck during the rest of these early seasons.
2022 Reports
2022 Season Wrap-up: What's been a strange deer season for many in the North Country has come to an end. Deer or no deer, we hope you enjoyed the season which featured a very warm first half and normal second half. After putting down a few bucks early on, and having a solid doe population in one of our hunting areas, our crew figured we'd have some bucks wandering in during the late season, but it didn't happen. It certainly wasn't for lack of effort and since we hunt mostly in the eastern Adirondacks we kept at it right on through the late muzzleloading season; seeing only does, which we pass on in our mountainous hunting areas. Not so in some of our lowland areas, however, and I was able to knock down a mature doe (right) with less than an hour left in the muzzleloading season.
Now, other than a little Southern Zone hunting, it's back to the norm as we wait for ice fishing season to get under way. We'll be watching the snowfall as well, and pondering how it may effect an Adirondack deer population without a lot of natural food sources in the woods. This slow, but eventual start to winter, could be good thing. For now, we wish you a all a Merry Christmas, and Happy New Year, and thanks for dropping by ADKHunter.com!
12/9 Final Shot Pt. II: Dang, 'Hard to believe that after two weeks and two months of hunting with numerous implements, that deer season is in the North Country, or at least parts of it, is down to its final two days. The weekend is looking interesting, especially Saturday when we'll be dealing with some cold and wind, Sunday is looking great. So, if you can, get out and enjoy it. I've been in the woods as much as possible this week. I can't say there's a "Second Rut" going on but there are some fresh rubs popping up, that's a good sign. So, those of us in the Iron Sight Gang that will be breaking out the smoke-poles will still be concentrating on doe groups, which are likely around food sources such as ferns, which means we'll be hunting the brush and lowland swamps along with a few of our classic drives. Good luck, and keep the photos coming. We'll catch up on them soon.
12/2 Final Shot Pt. I: Dang, deer season goes by fast. But here we are with one weekend to go and it seems like in terms of decent hunting weather we're just getting started. There's a lot of unfilled tags out there and sadly, Saturday is not looking good, although some areas may luck out and get some snow out of this weather system it appears to be mostly rain heading our way. Meanwhile, we're not hearing about a ton of buck sign, lately or this season at all. Hopefully a second rut is in the works in time for the late muzzleloading season (where applicable). Plenty of photos are rolling in and we'll get caught up on the after the weekend. Meanwhile, we'll be in the woods as much as possible. –Dan'l
11/23 Happy Thanksgiving: My first hunting season was in 1979, and that year, on Thanksgiving Day, I joined the hunting party for the very first time. I have not missed a Thanksgiving Day hunt since. Even if it's only for the morning. Some have been wet, many have been cold, a few have been solo and some have featured a very large group. All have been memorable in their own way, especially the few when Adirondack bucks have fallen. I hope you'll partake in the heritage that is deer hunting on Thanksgiving and wish all a happy one.
Meanwhile, the photos and stories are rolling in as a "better-late-than-never" phase of the deer season seems to be going down. It's a lot like last year in that respect and perhaps for the final stretch of the Northern Zone rifle season, which closes Dec. 4, we'll have some normal fall weather (albeit a wet weekend at times). Buck sign and activity, which picked up when things finally turned cold last week, has not been intense, nor has it waned. Unlike more densely populated areas (both people and whitetails) Adirondack bucks seem to go on the move, and stay on the move, during the late season. They've likely bred the does in their home range and wander in search of others. So if you've got does around, keep an eye on them as they'll likely have some company during the home stretch of the season, which is going by way too quick! Good luck, and again, Happy Thanksgiving.
11/17 Snow Blind: Be careful what you wish for. Wednesday snow was a welcome commodity for many hunters, including some shown here who got out and tracked a buck. We also hunted in the wake of the storm, saw some deer and one of the crew had a missed opportunity. Up in the Northwestern Adirondacks, they could be getting much more snow than they want, which could surely slow down the hunting. As for the rest of us, what's left of Wednesdays wet, heavy snow is now frozen and crunchy. That's good news for groups making deer drives but tough for anyone trying to sneak up on a buck. But, you'll hear 'em coming. Lots of reports of bucks with does as the rut seems to have intensified over-night once the warm weather departed. Now is a great time to be in the woods so be sure to get out there when you can.
11/10 Peak Weekend: It's officially mid-November and the mid-point of the Northern Zone rifle season, yet we're finally talking about cooler weather. Across New York, the change in temps and barometric pressure has kicked things up a notch in the deer world. And that should continue once tropical storm headed our way pulls out on Saturday. And it seems the change will be long-lasting, as next week we may even see some snow at higher elevations. There is no better time to be in the woods than mid-November so make the most of it if you can. Buck sign in the form of rubs and scrapes should turn on and calling should be effective as well. Mainly, if you've found some doe groups to key in on, it's time to do just that as the bucks will be with them. Good luck out there, we've waited a long time for this.
11/3 Another Warm One: Here we go again, another weekend of temps in the 60s, maybe even 70s, for the third weekend in a row. This one may be warmer than the previous two. While are group is having some luck, mainly because we're literally kicking deer in the butt to get them moving, we're practically hunting in shirtsleeves. In fact, this week, a few us went out in the boats and did some fishing. Why not. Buck sign is minimal, so if you're finding rubs and scrapes, good for you. Tuesday morning (Election Day) looks to see a temp-drop, this could be one of the better hunting days so if you're off this week, hit it. But don't forget to vote! Meanwhile, we have no choice but to stick with it and hunt when we can; and hope the weather breaks. Good luck!
10/27 Heat Wave: Greetings hunters, it looks like another warm hunting weekend (and the week beyond) lies ahead, although not as warm as the opener. Still, hunting can be tough in warmer conditions, at least if you're waiting for deer to move. If so, food and water sources might be the ticket. For the mobile hunter – like those of us who make drives – you've got to kick 'em in the butt to get them moving. For our group, the early season is about hitting different places and finding doe groups for later in the season, but if we find a buck, we'll go back after it. We'll be in that mode this weekend and likely at least part of next. Then once the rut really kicks win we'll be hitting the doe groups. We didn't find much for buck sign last weekend – just one scrape and few rubs, but we did have some luck and hope you did too. Stay cool this weekend and good luck!
10/21 Here We Go: Seven weekends will go by fast. Know that now and make the most of things as another Northern Zone big game rifle season commences. I've spent some time in the woods during the past weekend with no venison to show for it. The Iron Sight Gang had a couple of close calls during the weekend muzzleloading hunt and I was trying to coax a small buck into to range (out of the brush actually) on an evening hunt this week. We are seeing some deer, but not much for buck sign (one rub report, so far). And mast crops seem to be scarce. Brush on the other hand, is prevalent especially in the outer portions of the region and therefore affecting visibility. This first week looks to be unseasonably warm with some rain early in the week. We'll have to practically step on them to get them to move, but it will be nice to be out there once again enjoying deer season. Good luck on the opener!
10/14 Crossbows & Smokepoles: Mid-October is finally here, something many of us have been waiting for. I've been out with the crossbow a few mornings this week with no luck. The sits have been short, as duty calls and other commitments are taking up my evenings. I can't help but ask how many more hunters would take part in crossbow hunting in the Northern Zone if the season were longer, at least we had more time until the muzzleloading season opens.
And that's what's happening this weekend. Across the Adirondacks, deer camps will come alive this weekend the "soft" opener of the Northern Zone deer season. Much changes now in terms of hunting pressure and participation. The woods might look pretty, but there's lot of leaf cover and underbrush as only a few areas on the North Country have had a frost. That could change during the week, but the weekend is looking quite warm with daytime temps in the 50s and 60s, location pending. Other than mornings and evenings, the deer might not be moving much, unless you make them. Hunting around water sources might also pay off.
10/1 Greetings Hunters: October is here and so far it seems to be pretty quiet. We haven't seen much in terms of hunting success so if you're having some luck, let us know. Acorns seem to be spotty this year, and where they are they seem to have fallen early (that we know of). Tough year for apples too, so it you've got them consider yourself lucky. A warm trend is in place later this week followed by a cool-down for the annual youth deer hunting weekend. Good luck out there, check us out on Facebook and be sure to send a photo.