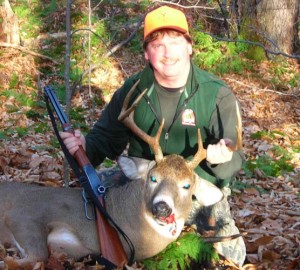 Dan Ladd is the Editor of New York Outdoor News. He began that role in April, 2020 after long-time editor Steve Piatt retired. Prior to that, Dan was a part-time freelance outdoor writer. For 17-plus years he penned a weekly outdoor newspaper column in The Chronicle in Glens Falls. For over a decade he was a monthly columnist for the Press-Republican in Plattsburgh. He was a regular contributer and blogger at NYON prior to becoming editor and has contributed over the years to a number of publications including Adirondack Outdoors, The Conservationist and Outdoors Magazine.
Dan is based in New York's Adirondack mountains where he has spent most of his life. He is an avid and versatile outdoorsman who is able to translate his interests and experiences into his craft. A deer hunter at heart, Dan hunts whitetails primarily in the Adirondacks, which served as the inspiration for his website, ADKHunter.com, and his first self-published book, Deer Hunting in the Adirondacks (2008, 2010).
However, Dan enjoys the outdoors in all seasons. The winter months are spent ice fishing, snowshoeing, cross-country skiing and occasionally, snowmobiling. The warm weather months find him fishing for trout and bass, hiking, camping, and spring turkey hunting, for which he recommends shooting with .223 Rem. Dan and his wife, Adrienne, are avid kayakers who take many trips in the Adirondacks. The Ladd's rural homestead in the southeastern part of the Adirondack Park is on land that has been in Dan's family for more than a century.
Dan is currently the Northern Region Vice President for the NYS Outdoor Writers Association.
Dan can be reached by email at : buck@adkhunter.com
---
The Ladd Family
Adirondack Hunting Heritage