Summer Heat: First, my apologies for the fact that ADKHunter was down for a bit. Our web provider made some changes that affected our site and it took some time to figure out. Meanwhile, summer has been busy, and tough in terms of the weather on both people and deer. We're not hearing of many daytime sightings but people are seeing plenty at night as well as on their trail cameras. Deer simply move more when it's the coolest, which is obviously at night. So if you're not seeing deer yet, where you normally do, be patient as a cool-down is in the works. And if you have any apple trees around they're sure to visiting. Also, we'd love to hear of any bear activity you're experiencing. .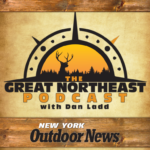 Meanwhile, things are busy as usual with New York Outdoor News and the Great Northeast Podcast is now on Apple Podcast, which will be a year-old in August. Check it out when you can. We drop a new episode every two weeks. Until the next time, think Fall!
–Dan'l
---
Apprentice Wanted: After giving this some serious thought this summer, what we would like to find – at some point – is an apprentice who would be interested in helping out with the website. Knowledge of WordPress webhosting software would be a bonus, but is not necessary, although the willingness to learn is. What is needed is experience in photo editing, and if you have Photoshop experience (and software) all the better. Also, if the person is from the Glens Falls/Lake George region, all the better, but this is also not neccesary. We can't offer any compensation but we can discuss ways to make the website more financially feasible in the future. If you'd like to talk, shoot me an email.