Last Call Part II: What's left of deer season in the Adirondacks, and where it's left, looks to be a repeat of last weekend. Warm weather is expected to move into the region on Friday, and especially Saturday with another big rain/snow storm set for Sunday. So much for keeping the powder in the smokepole dry on the final day.
Haven't heard much from hunters this week so it seems like a quiet late-season has been the story. Some have reported seeing deer on their trail-cams posted in migration areas, so perhaps in the interior of the Adirondacks (which does not have a late muzzleloading season), where there is more snow than anywhere else in New York, is seeing the whitetail herd head for their winter yarding areas. Otherwise, deer seem to be on food sources where you can find it, although I did find one scrape earlier this week that had been made some time in recent days prior. Good luck this weekend, and remember, you can't kill a buck if you're not out there.
---
Photos: We certainly welcome your hunting photos of big and small game from the Adirondacks and Northern Zone. Email them to buck@adkhunter.com. We also encourage all New York hunters to share their photos with New York Outdoor News. Submit your Reader Shots here: https://www.outdoornews.com/new-york-reader-shots/ Also, consider participating in the Outdoor News Best Buck Contest. This is not a big buck contest, but a quality photo contest. So take some good shots of your harvest and enter them for a chance to win some great prizes. Here's the details:
---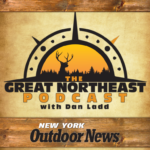 We'll check in every week now that deer season is here, but things remain busy as usual with New York Outdoor News and the Great Northeast Podcast is now on Apple Podcast. Check it out when you can, as we'll have plenty of deer hunting content in the weeks ahead. We drop a new episode every two weeks, the latest being Ep. 30 – Beginning Deer Hunting.
–Dan'l
---