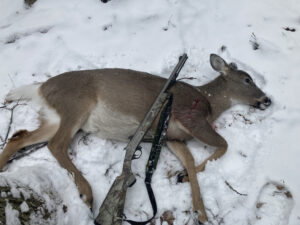 Season Wrap-up: What's been a strange deer season for many in the North Country has come to an end. Deer or no deer, we hope you enjoyed the season which featured a very warm first half and normal second half. After putting down a few bucks early on, and having a solid doe population in one of our hunting areas, our crew figured we'd have some bucks wandering in during the late season, but it didn't happen. It certainly wasn't for lack of effort and since we hunt mostly in the eastern Adirondacks we kept at it right on through the late muzzleloading season; seeing only does, which we pass on in our mountainous hunting areas. Not so in some of our lowland areas, however, and I was able to knock down a mature doe (right) with less than an hour left in the muzzleloading season.
Now, other than a little Southern Zone hunting, it's back to the norm as we wait for ice fishing season to get under way. We'll be watching the snowfall as well, and pondering how it may effect an Adirondack deer population without a lot of natural food sources in the woods. This slow, but eventual start to winter, could be good thing. For now, we wish you a all a Merry Christmas, and Happy New Year, and thanks for dropping by ADKHunter.com!
–Dan'l
2022 Photos

A Note About Blaze Orange: Prior to the 2021 hunting seasons, a regulation change was put in place requiring deer and bear hunters to wear florescent clothing (orange or pink) in either the form of a hat or at least 250 square inches of clothing. While it can be assumed that hunters shown in photographs without florescent clothing were obeying the law when they shot their game, it can also be assumed they were not. We understand that hunters shed layers in warm weather and when dragging bucks and bears out of places like the Adirondacks; it happens with our own hunting group. However, going forward, please try to share photos of hunters with the required attire. Thanks!
---
Introducing the New York Outdoor News Great Northeast Podcast
with NYODN Editor Dan Ladd
From Outdoor News Radio
Ep. 9 – Dec. 9, 2022 – Discussing New York Gun Laws with 2A Attorney Paloma Capanna
Ep. 8 – Nov. 23, 2022 – New England Outdoor Writers Association
Ep. 7 – Nov. 10, 2022 – Going Mobile for Bucks (drives, tracking and stalking)
Ep. 6 – Oct. 28, 2022 – Talkin' Fall Turkeys with Mike Joyner
Ep. 5 – Oct. 13, 2022 – Buck Talk Todd Mead
Ep. 4 – Sept. 29, 2022 – Wildlife Corridors
Ep. 3 – Sept. 15, 2022 – Ben "The Bear Man" Galway – Bearly Speaking
Ep. 2 – Aug. 31, 2022 – Todd Waldron, Nate Kennedy of the Ruffed Grouse Society & American Woodock Society
Ep. 1 – Aug. 17, 2022 – Steve Piatt, retired NYODN Editor
---
Apprentice Wanted: After giving this some serious thought this summer, what we would like to find – at some point – is an apprentice who would be interested in helping out with the website. Knowledge of WordPress webhosting software would be a bonus, but is not necessary, although the willingness to learn is. What is needed is experience in photo editing, and if you have Photoshop experience (and software) all the better. Also, if the person is from the Glens Falls/Lake George region, all the better, but this is also not neccesary. We can't offer any compensation but we can discuss ways to make the website more financially feasible in the future. If you'd like to talk, shoot me an email.