More Seasons: This is a great time of year for hunting in Northern New York. The Early Bear season opens in the Adirondacks on Saturday, Sept. 16 and the real news here is that there is somewhat of a beechnut crop out there. The mast is not everywhere, but earlier this summer reports came in from the central Adirondacks and recently we've heard from hunters in the eastern ADKs too, of some beechnuts. Currently, there's some acorns and apples too. Good luck out there this weekend and please send us a photo and/or report on your hunt. For small game hunters, grouse season opens on Sept. 20 and the early archery season for deer (Sept. 27) is now less than two weeks away.

DEC's Season Summary
---
(9/1) Happy New Year: It's a new license year and the opening day of a pair of hunting seasons in New York as small game and waterfowl hunting begin. Both squirrel and Canada goose season get under way. The best part of it is that it's going to really feel like fall in the Adirondacks for most of Labor Day weekend, if not a little wet from what was Hurricane Henry. Soon enough, the Adirondack Black Bear season will open on Sept. 16, grouse on Sept. 20 and the archery season for deer on Sept. 27. It's that time of year!
---
Here's a shot of bull moose taken July 10, 2017 at Cedar River Flow
by Dan Ladd of ADKHunter.com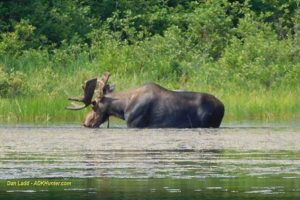 And, here's a couple of late arrivals from the 2016 deer season
PS: Don't forget our Facebook page
2017 Spring Turkey Season