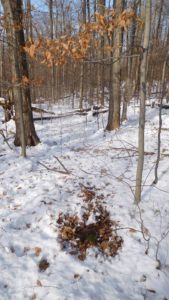 More Snow: For the third time in the past week the Adirondack region is about to get another shot of November snow. There isn't a hunter out there who doesn't want snow to hunt on, but too much of a good thing is possible for the hunter spending a lot of time on foot. But, that's the way it goes during the most unpredictable time of the year. Also, any snow we get is likely to stick around as there is not much of a warm-up in the long-range forecast.
Bucks continue to fall around the region but many hunters remain frustrated with scattered food sources. Ferns, briar patches and anywhere deer can browse seem to be the go-to spots. Find what they're eating and you've found deer. And with the rut in progress you'll likely find some bucks. We've found more rubs over the past week then we have thus far in the season and we also found a few scrapes on top of the snow. Hopefully there'll be more of that in the fresh snow, which certainly gets the hunter excited.
Meanwhile, the Southern Zone opener is Saturday, Nov 17 and many hunters "head south" leaving the Adirondack woods a little quieter for the rest of us. Be safe out there and hopefully the snow helps, more than hinders, your hunting efforts.
-Dan'l
PS: If you are out there or hunting , and having some luck, please send us a photo of your luck, big or small. We know how easy it is to post photos on Facebook. Here on ADKHunter they remain on display indefinitely and are easy to access. We also like hearing reports of your trips into the woods; what your seeing and what your not, in terms of sign, deer, feed, etc… As for our own Facebook page? We like to use that for news, articles on hunting tactics, and hope you'll drop in there too.
Also:
•ADKHunter's Facebook page.
Latest Hunting Photos
Read on for previous 2018 hunting reports…

Continue reading →