Meteorological Spring 2023: For some, Spring begins March 1 rather than with the March 20 Spring Equinox as they follow the Meteorological Calendar, good stuff, especially in September as hunting seasons kick in. This winter, however, is going down as the winter that wasn't. Several ice fishing events have been canceled, including the March 4-5 event in Schroon Lake, likely for the first time ever. That's too bad as this is a major deal for this fine Adirondack town. The deer herd is certainly benefiting from an easy winter, as thanks to gypsy moths and a tough mast crop year, things could've been worse.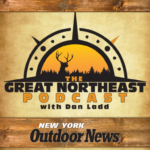 Meanwhile, things are busy as usual. New York Outdoor News has a new website, check it out when you can and consider subscribing as it's a pretty good deal. Meanwhile, the Great Northeast Podcast is now on Apple Podcast, which is very good news. Locally, it looks like the sports clubs and county federations are partnering with DEC to get the Region 5 Fish and Wildlife Management Board meetings back up and running for the first time since Covid. If anyone has heard about similar meetings in Region 6, please let us know. This is an institution that could certainly use some help and new involvement. Each county has a federation made up of that county's sports clubs and often individuals. To get an idea list the Warren County Conservation Council's Facebook page, or look for something similar in your area. Again, all sportsmen could benefit from more involvement.
Meanwhile, things spring! You know, turkeys, trout, and maybe some late season coyotes too. Until the next time!
–Dan'l
---
Apprentice Wanted: After giving this some serious thought this summer, what we would like to find – at some point – is an apprentice who would be interested in helping out with the website. Knowledge of WordPress webhosting software would be a bonus, but is not necessary, although the willingness to learn is. What is needed is experience in photo editing, and if you have Photoshop experience (and software) all the better. Also, if the person is from the Glens Falls/Lake George region, all the better, but this is also not neccesary. We can't offer any compensation but we can discuss ways to make the website more financially feasible in the future. If you'd like to talk, shoot me an email.