Buck's Blog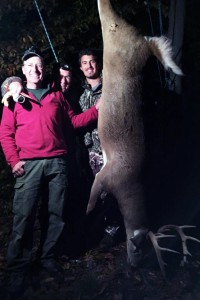 Christmas Week: It's Sunday morning of Christmas week and this is the first Sunday since Sept. 20 (the week before archery opened) that I haven't been in the woods. It feels strange, and with a busy work week ahead I thought I'd dig into some photos and news items that have come in the past few days. Take a look at this big 250-pound (dressed) buck taken Oct. 17, the opening day of early muzzleloading season in Hamilton County. There's a better photo of it in the photos below. So few of us have been fortunate enough to even get a 200-pounder, but this deer is incredible. The snout almost looks like a mule deer. Anyway, congrats to this hunter and all out there who had some luck. And, a Merry Christmas to all if we don't chime in before the end of the week.
---
(12/14) Its Over: As I write this it is the morning after the official end of deer season in the Northern Zone. Reality has yet to set it in, but it will once the sun rises and even more so as the week progresses and the weekend eventually rolls around and I find myself not prepping for a weekend in the woods and/or at deer camp. Given the fact that the weather is more like October or November, rather than December, really makes it hard to contemplate the end of deer season. Then again, there's always the Southern Zone which has bow, crossbow and muzzleloading seasons open through Dec. 22. Perhaps some of us will squeeze another hunt in yet?
Our season ended on a good note. After some missed opportunities (and misses) early in the season we did well down the stretch, as we normally do. It was not a year of "slammer" bucks for us, however, just some smaller ones tied in with a dandy 9-pointer shot by my brother (Bill Ladd). This past weekend of muzzleloading hunting was real interesting. We alternated between our mountain haunts where we target only bucks and a few other spots where we don't mind taking a doe or two. The end result was a father and two sons each scoring over the course of the weekend with two spikes taken and a small doe for a very happy teenage hunter with his first Northern Zone deer. Ironically, one of the bucks lost its antlers right after the shot and we had to paw around in the leaves looking for them. What a story! We'll get a photo up soon of the family, for sure.
In the weeks ahead here at ADKHunter.com it will be all about photos. Now that the season is over and with the holidays coming many hunters will sit down at their computers, tablets and cell phones and take the time to share their stories. It's been that way since we launched this website in 2000. While we're hearing gripes about the warm weather and poor hunting conditions, judging from the amount of photos sent I can't say it's been a bad year for Adirondack hunters. We're getting just as many photos as ever, especially of the nicer bucks. We hope you had a good season and will pass your photos on at some point or another.
Until next season…..
(12/9) Last Call with the Smokepole: Another Northern Zone deer (and bear) season has come and gone and all that's left along with some memories is a few more days of muzzleloading hunting in the WMUs that represent the perimeter of the Adirondack region. If I recall, we had a few days in the early muzzleloading season that were likely colder than the balmy weather that's predicted for the days ahead. After some rain on Thursday, much of the region could get into the 50s with overnight lows only in the 40s. This type of stuff halts deer movement, which makes morning and evening stands, hunting of any kind around water and making some deer drives go-to methods. Its hard to compare this to a year ago at this time when we were walking on frozen beaver ponds and/or in snow up to our knees.
Our crew is big fans of late season hunting and we've killed many bucks over the years after Thanksgiving and well into the late muzzleloading season. So many hunters I've heard from had given up before then and that is a shame. Photos of bucks taken in late November and December have rolled in and most, with the exception of my own 4-pointer (or quite possibly an Adirondack 6), are bigger bucks. There are still bucks out there to hunt – big and small – but you have to be in the woods to get a crack at one. So, load up them smokepoles and hit the woods. Be safe, good luck, and thanks for all your support this season.
(12/2) A Week to Go: Well, another dozen photos or so were posted this morning (Nov. 30), mostly from hunters who did well over the Thanksgiving weekend. Congrats to them and all who have connected on an Adirondack buck this season. Now, we're down the last week and if you have time to hunt, consider yourself lucky. Our time in the woods and reports from other hunters indicate a fair amount of rutting activity still going on. Bucks were shot over the holiday weekend while chasing or following does and there still seems to be plenty of fresh rubs being found. Last year at this time we had deep snow in parts of the Adirondacks and plenty cold to go with it. While some wet weather is in the forecast for the week ahead we'll see if there's any accumulation in the region, which would be welcome by those of us still trying to tag buck. Otherwise, the weather report seems to be about average for this time of year. Keep at it, good luck and keep the photos and reports coming.
(11/25)  Giving Thanks: I have to admit, it's been a tough November; one in which hunting has unfortunately had to take a backseat at times. Less than two weeks ago our family lost my Uncle Jim Ladd – a long time Adirondack deer hunter who in his day could chase bucks with the best of them. Also this month three other friends, one of them who hunted out of a camp in Edinburgh, have also passed. Hunting has been bittersweet, but it has been hunting nonetheless.
Getting a buck with my brother last week sure felt good. For him, it was his first real nice buck and a long overdue one at that. To top it off he shot it with our grandfather's old Winchester 30-30 which my grandfather passed onto him not long before he passed in the late 1970s. Both my brothers and I all hunted with that gun in our early seasons. One can't help to think that some bucks and hunts are just meant to be.
Yet another deer season in Northern New York is beginning to wind down and from Thanksgiving Day on I'll have the opportunity to hunt every day of  it. I'm a firm believer in late season hunting and have been part of many successful hunts during the final hunting days. When I look at the photos coming in from other hunters and read the reports they share about bucks being grunted in, bucks trailing does or bucks searching for does I have to believe there is plenty of rutting activity still going on, even though last week I saw a lot of does but not one antlered deer. I also believe the Nov 25 Full Moon may kick in some late season rutting activity. I'll be doing my best to punch my tag from Thanksgiving on, and am thankful to just be able get out and hunt and breath fresh mountain air. I hope you do as well. Happy Thanksgiving!
11/20 Northern Comfort: Sometimes a plan really does come together in terms of deer hunting. Just ask Bill Watters of Day, NY who was hunting last weekend in the southern Adirondacks and tagged what will be a record book buck. Here on ADKHunter.com, we don't usually make a big deal about antler scores – we're more interested in weight and the overall hunting experience – but it's hard to ignore a deer that grosses 175 1/8. These are the bucks that people remember and that put Adirondack bucks and Adirondack hunting on the map. Our congrats to Bill and his hunting companions.
Today, Nov. 20, was a good day for us too. After a number of missed opportunities (literally) we finally connected on a nice Adirondack buck. My older brother, Bill Ladd of Watertown got his nicest buck to date. It was a simple, two-man drive and the buck was running with two does. Needless to say, we'll be looking for those two does before the weekend is out and maybe we'll catch another buck with them. It's happened before. Many hunters are heading south tomorrow as it is the opening day of Souther Zone. We wish them luck, but some of us will stay in the North Country.
(11/17) Mid-November: As expected in mid-November, the buck photos are rolling in. Adirondack hunters in the past week continue to knock down some nice bucks and some smaller ones too. We're happy to report a few heavier bucks being taken (see photos below) including one that went 205-pounds.  We pounded the hills hard the past three days and did not kill a buck (another miss) but have noticed that rubs and scrapes are really starting to pick up. This is a funny rut, perhaps slowed down a bit by the warm weather.  Like us, some hunters are seeing lots of does and few bucks, others are calling in bucks with grunt tubes and bleat cans or are seeing bucks wandering, looking for does. The key this time of year is just to be out there when you can. Enjoy the season and keep the reports and photos coming.
(11/11) Indian Summer Part II: As we enter our fourth weekend we're about to approach the midway point of the Northern Zone rifle/big game season. So far, the story is above average temps, while foliage cover has finally relented. Last week was slow in terms of reports of bucks taken and whitetail activity overall. Things sure picked up over the weekend but today (Nov. 10) saw temps once again topping out over the 60 degree mark in some areas. As for the upcoming weekend, it looks like Saturday will be chilliest of the hunting days, and likely a little blustery. Things are expected to warm up again early next week and a long-term forecast I saw predicted average to above average temps well into December
Some of the hunters who send photos of their bucks take the time to tell us how they got them, others don't, and that's OK.Still, although we may not report it, all of this is good information and one thing that is coming out of this season is that lately many bucks are being taken in group hunts such as drive hunting. In warmer weather that's one sure way to get them moving if you know where they're hiding. It goes without saying that knowing where does hang out is never a bad mid-November strategy, no matter the weather.
Although we'll have some time off ahead for some serious hunting of our own, we continue to upload photos (below) as they come in and wish all hunters the best of luck out there. We especially want to thank all of our Veterans, regardless of whether they hunt or not, for their service, and for those who do: a little extra special luck as we honor you on Veteran's Day and every day for that matter.
(11/4) Indian Summer: I don't know about you, but this shirt-sleeve weather doesn't put me in the hunting mood. Then again, if you're stand hunter sitting mornings, evenings and maybe hanging around water, or, if this is the week you have the most time to hunt, then so be it. Rut activity like rubs, scrapes, buck sightings (including an encounter this hunter had with a decent buck without a shot being fired) and overall deer movement are on the upswing. If the moon and lunar models are correct we should be finding ourselves in the chasing and seeking stages of the rut any time. While cooler temps are on the horizon, after what could be record warmth the rest of the week, the long-term forecast still has temps at or slightly above average for the next few weeks. The sudden drop in temperature over the weekend could be just what we need to pick up the action a little.
(10/29) Happy Halloween: As much as we've discussed the leaf cover and warm temperatures and their impact on hunting, there's still quite a few success stories coming in from the early season. As you look through the photos below you'll see what we're talking about, including several quality bucks and a few bears. One bruin topped the scales at 425-pounds!
Average temperatures (40s/50s) look to be the case for the second hunting weekend with an Indian Summer warm-up apparently coming our way next week. The underbrush is surely affecting visibility. Meanwhile, those who follow moon and lunar theories are excited in the wake of the Full Moon that occurred on Oct. 27, which is supposed to trigger the rut. If that's the case bucks will begin moving this week looking for does. We'll see what happens and if the warm temps remain a factor. Good luck, and keep those reports and photos coming.
(10/26) Week 1: Things are off to a warm start for this the first week of deer season. I spent the last day of muzzleloading week and the first weekend roaming around my hunting areas looking for does, sign and feed. I'm a big believer of in-season scouting just ahead of the rut. We didn't find much for feed: there is little in the form of mast crops in our area. What about yours? It's quite thick in the woods with plenty of leaf cover, especially on the underbrush and it looks like it's going to be that way for a while. The story of this week may be Tuesday's Full Moon which many believe will be what triggers the whitetail rut. Meanwhile, a number of photos have come in (below), including a couple of very impressive bucks. We hope you got out over the weekend and that your season, buck or no buck, is off to a fun start.
10/23 – It's Time: Just want to send a quick note to wish everyone a safe and successful 2015 hunting season. Here in the Lake George region there's still a lot of lower leaf cover and no killing frosts in sight. It also looks like things are going to warm up a bit. Photos are coming in as are reports from hunters finding a few beechnuts and acorns here and there. We should have more to report after the weekend. Again, good luck and be safe.
10/19 – What a weekend: You never know what mid-October weather will bring: it might be 70, or it might be snowing. For much of us it was the later as hunters everywhere are reporting snow, including mild accumulations in the higher elevations. Still, leaf cover was an issue and it cost this hunter a shot at a buck. In the area I hunt, only the youth hunters can shoot does (our rule), so identification is key. I also spent some time in an area that is overrun with does, yet couldn't get a shot. Several hunters, however did shoot some nice bucks that we're seeing on Facebook pages. That's great, and congrats to them. We hope they'll share their photos with our readers.
A warm-up is expected for the weekend regular season opener and with the killing frosts the leaves are tumbling out of the trees like snowflakes. This really is a special time of year to be in the woods. Get out and enjoy the rest of the muzzleloading season.
10/14 – Here We Go: Although the crossbow season opens Wednesday, Oct. 14, we're willing to bet that much of the focus in the coming days will be on the weekend and opening day of Early Muzzleloading season in the Northern Zone.
The weather forecast is what has us excited: hard, overnight frosts and daytime temps that will only be in the 40s in much of the region Saturday though Monday, perhaps lower in others. There may even be a dusting of snow! In contrast to the warm weather we've been having – 70's on Columbus Day – this change could really kick deer movement into high gear. It actually could feel like November out there. If that's not enough to fire you up, scouting reports coming in and some of our own observations are already showing rutting activity in the form of plenty of rubs and even a few scrapes.
So, whether you're getting out with the crossbow the remainder of this week or holding out for the "smoke pole" weekend, make sure you're ready. And you've had some luck with the bow or during the recent youth deer hunt, we'd love to hear about it.
10/7:  Fall Holiday: A busy week, and weekend has limited my time in the woods. That is unfortunate because there have been some real nice mornings and afternoons where I'd like to be on stand. I did take a morning to chase turkeys and spent some time catching up on a few trail cameras. Reports coming in this week of deer on the move the photo here is an example of that as this is the first appearance of this buck on this camera. Things will start to get interesting next week when the Crossbow Season opens on Oct. 14, and Early Muzzleloading on Oct. 17.  Trout season, meanwhile, ends on Oct. 15.
After Friday's rain, which will swell the stream beds and raise levels in beaver ponds and such, we're headed for a cool-down for the weekend before things warm back up again on Monday (Columbus Day). Of course, the annual Youth Deer Hunt is this weekend and we wish all the young hunters out there, and their mentors, the best of luck.
9/30: Cooling Down: Finally, it feels like Fall out there. The first few mornings out bowhunting were nice and I saw some deer to boot, no shots taken. But, the hot afternoons just aren't my thing. The rain we got was much needed, although it came all at once. What it does do, however, is throw out any strategies we may have had about hunting near water. Now, the streams are flowing and game can get a drink in places where it couldn't before. At least the deer should start moving thanks to the weather. However, other seasons open on Oct. 1 like turkey and other small game and that will bring more hunters to the woods and likely affect deer activity. Southern Zone archery season also opens Oct. 1. No matter what your hunting, or where, good luck and keep us in mind with you deer scouting efforts.
9/26: Bowhunting Eve: As I write this my butt is kicked from picking pumpkins all day, but like so many I anticipate the morning and what every opening day brings. This one feels different; without the little four-day season on last year's tag. Sill, it is opening day, I know where there are some deer and I hope to be amongst them in the morning. I've been watching deer feed on apples and acorns in the southeaster Adirondacks Meanwhile, we're hearing of a decent beechnut crop in the southern part of the park. Up north, that's where most of the foliage is right now which is likely coming late this year courtesy of the heat. Here's hoping for a successful early season hunt, and a safe one at that. As always, enjoy the early fall and let us know what you're seeing in the deer woods. And if  you score, please send a photo along.

9/18: Bear: On the eve of the bear season opener in the Adirondack region, and that of grouse on Sunday, it's still hard to contemplate hunting when it's been as hot as it has been. What choice do we have? Still, we know that change is in the air. The hummingbirds have headed south; there's some yellow, light green and red in the leaves; and, the coats of the white-tailed have changed from the red we know so well to that of brown, gray or even blue as famous Adirondack hunting writer Paulina Brandreth called it. Trail camera activity is also picking up and if you've been watching bucks, on camera or in person (left) then you know they've just recently shed their velvet.  If you're heading out for bear and grouse this weekend, have a great time and we hope you do some shooting. The archery opener for deer is is coming soon. Have fun, hunt safe and most of all, let us know what you're seeing in the Adirondack woods. -Buck
9/1 The Beginning – Well, it's hunting season! That is if you are a squirrel hunter. Sept. 1 marks the beginning of squirrel hunting season as well as the new sportsman's calendar year. It's a new era for us Northern Zone hunters. No more using "last year's" tag for the early bear season (Sept. 19) or early archery season (Sept. 27) and for that matter the grouse (Sept. 20) and numerous youth seasons, including waterfowl that was just announced (below). For those who did hunt today, or will be in the following days, it's going be hot so get that game to ice quickly. Meanwhile, we're seeing plenty of deer and it looks like there's a good looking acorn crop in places. 'Not so sure about beechnuts as I was in some Central Adirondack beech country on Sunday and did not find any nuts. For those of you out there scouting, please let us know what you find. Meanwhile, get ready because big game hunting is just a few weeks away. -Buck