The Countdown begins: The early small game hunting seasons are just weeks away and with the days getting shorter, and in some cases a little cooler, our attention begins to turn to autumn months. First, if you are new to hunting and need to get your hunter, bowhunter, or trapper ed course, get going on it now. Meanwhile, it's time to start shooting the bows, shotguns and rifles for the sake of practice. Many hunters have already placed trail cameras as well as treestands. This can and should be a very busy time of year for a serious deer hunter.
We're getting reports of several deer sightings, including some good bucks. These are from trail cameras and actually sightings, including my own. I'm also happy to report more wild turkey sightings as summer has gone on, including hens with poults. This is certainly encouraging compared to earlier observations. Mast crops, too are doing well and with hunters reporting both acorn and beechnut crops in parts of the Adirondacks. Apples are really starting to get going. Deer at this time of year, should not be going hungry.
Soon enough we'll be taking to the woods. In the meantime, enjoy the rest of the summer as it will be gone before you know it. Although, for most of us, that's just fine!
---
Here's a shot of bull moose taken July 10, 2017 at Cedar River Flow
by Dan Ladd of ADKHunter.com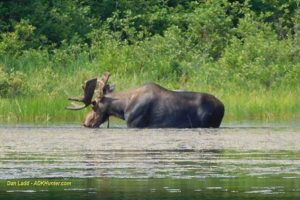 And, here's a couple of late arrivals from the 2016 deer season
PS: Don't forget our Facebook page
2017 Spring Turkey Season