The latest from ADKHunter…
Let's Go Deer Hunting: It's hard to remember an autumn as warm as this one has been and for the most part, it is impacting hunters who simply don't enjoy the warmer temperatures. Many question what they'd do with a deer if they got one. We feel real bad for the young hunters who endured the heat for last weekend's youth hunt.
But it's not all gloom and doom. As you'll see from the photos, a few young hunters as well as some bow hunters have been putting the time in and connecting. Now, crossbow season is here and this weekend is opening of the early muzzleloading season in the Adirondacks. If you hunt WMU's 6F and 6J in the Adirondacks, or 6N in the Tug Hill region, remember that these units are buck only. Good luck, hunt safe and be sure to send us your photo and reports.
---
(9/28) Hot Start: I'm sure I wasn't alone in adventuring out for the Northern Zone archery opener on Wednesday morning. But, I didn't last long. Once the sun broke over the horizon and hit the landscape the mosquitos quickly descended on me as I sat in a blind. In no time I was sweating although all I was wearing for camo was a gilly suite made of camp netting over shorts and a t-shirt. This hot weather we've been having makes hunting obviously difficult. And although it's going to remain warm, at least there will be some drop in the temperature which could get deer moving over the weekend.
Meanwhile, we finally got reports of some successful bear hunters out there, which has also been tough hunting in the heat. Come Sunday, the several small game seasons open, including Wild Turkey in the Northern Zone and archery for deer in the Southern Zone. Hunt safely, and let us know how things look in the woods, especially with buck sign and beechnuts!
---
(9/19) More Seasons: This is a great time of year for hunting in Northern New York. The Early Bear season opens in the Adirondacks on Saturday, Sept. 16 and the real news here is that there is somewhat of a beechnut crop out there. The mast is not everywhere, but earlier this summer reports came in from the central Adirondacks and recently we've heard from hunters in the eastern ADKs too, of some beechnuts. Currently, there's some acorns and apples too. Good luck out there this weekend and please send us a photo and/or report on your hunt. For small game hunters, grouse season opens on Sept. 20 and the early archery season for deer (Sept. 27) is now less than two weeks away.

DEC's Season Summary
---
(9/1) Happy New Year: It's a new license year and the opening day of a pair of hunting seasons in New York as small game and waterfowl hunting begin. Both squirrel and Canada goose season get under way. The best part of it is that it's going to really feel like fall in the Adirondacks for most of Labor Day weekend, if not a little wet from what was Hurricane Henry. Soon enough, the Adirondack Black Bear season will open on Sept. 16, grouse on Sept. 20 and the archery season for deer on Sept. 27. It's that time of year!
---
PS: Don't forget our Facebook page
2017 Hunting Season Photos (as of 10/11/17)

Don't forget to check out our
new Facebook page.
Here's a shot of bull moose taken July 10, 2017 at Cedar River Flow
by Dan Ladd of ADKHunter.com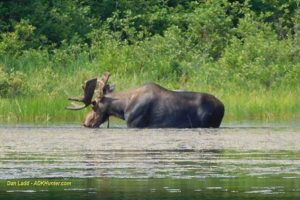 And, here's a couple of late arrivals from the 2016 deer season
Hunting Reports from the 2016 season
Two Adirondack bucks duking it out
Previous Posts
• (12/5) Smoke Pole Weekend: Areas around the permitter of the Adirondacks are open to the late muzzleloading season, which culminates this weekend. When the sun goes down on Dec. 11, that's it for big game hunting in the Northern Zone in 2016. It looks like we're in for a bit of a cool down so many of us will be breaking out the wool as we seek to put a some more venison in our freezers. We're also seeing deer start to group up. We put 11 deer to one hunter on a drive over the weekend without a buck in the group.
One of the most controversial topics regarding the late muzzleloading season is that of shooting antlerless deer. DEC tells us there are enough out there, otherwise the WMUs where it is allowed would be buck only, such as a few in the western Adirondacks. Or, they wouldn't have a late season at all. But hunters considering shooting a doe should still do the eyeball test. Are you seeing a lot of deer overall in your hunting area? How many hunters in your area will shoot a doe and how will it impact your local herd if a number of you are successful and the soon-to-come winter doesn't go so well?
Over the final three days of the season I'll be hunting in areas where myself and most of my fellow hunters will not shoot a doe. We simply feel that there just aren't enough deer there to support it. We also have spots to hunt closer to agricultural areas where there area plenty of does and if they cooperate, we'll take them. We'll be mixing it up between the two extremes this weekend in hopes of catching up to a buck.
Finally, be safe out there this weekend. We've had a number shooting incidents in New York recently and the negative side of hunting is in the spotlight. With antlerless deer being legal many muzzleloading hunters will have a "brown is down" mentality. Consider that when you dress for your outing and most importantly, make sure you know what you are shooting at before you pull the trigger.
•(11/30) Last Call: For Northern Zone hunters, especially those an with unfilled tag (that's me), things are literally winding down as the big game season comes to a close on Sunday, Dec. 4. No worries for this hunter, as the freezer is full, but having seen only one small buck this season I have to say I'd at least like to get a look at something a little bigger. That said the final day of the season have been some of our best when the weather cooperates and it looks to just that over the weekend. From what we hear and what we've seen in the woods, bucks are still following does and buck our group took over the weekend had been making fresh rubs. So, as long as there is daylight and an open season this hunter will be sticking with it and hope you will too.
•(11/22) Thanksgiving Hunt: This week's snow, depending on where you are, has been a blessing and a burden. Some parts of the Adirondacks got up to 18-inches and DEC has put out their first official Winter Backcountry Conditions alert. A number of hunters were either checking on or worried about their backcountry tent sites. But it sure was good hunting for a short period of time and as you'll see from the incoming photos some dandy bucks were taken on the fresh snow. Now, with a long weekend looming, a slight warm-up is expected and more snow in some areas, rain in others. We'll see what it does to the conditions. Happy Thanksgiving to all!
•(11/17) Southern Zone???: Saturday, Nov. 19 is the opening day of Southern Zone, which means many hunters who have been trekking around the North Country will be sitting in tree stands in the farm country. It's understandable that hunters want to be some place where they have the chance to at least see more deer. And with all the QDM Co-ops popping up, or hunters just practicing antler restrictions on their properties, they're really starting to get some nicer bucks in the southern tier.
But for the past four seasons this hunter has foregone going "south" and just kept hunting the Adirondacks. 'Nothing against the Southern Zone, where I have some success but over the years I found myself sitting in a tree stand thinking about the bucks that are on the mountain and how I wish I was spending a nice November day in the woods instead of the fields. 'Not to mention the fact that bucks are moving everywhere as the rut is in high gear and now is as good a time as any to fill a tag; especially in the North Country. No matter where you hunt this weekend here's wishing you the best of luck and most of all, a SAFE and successful hunt.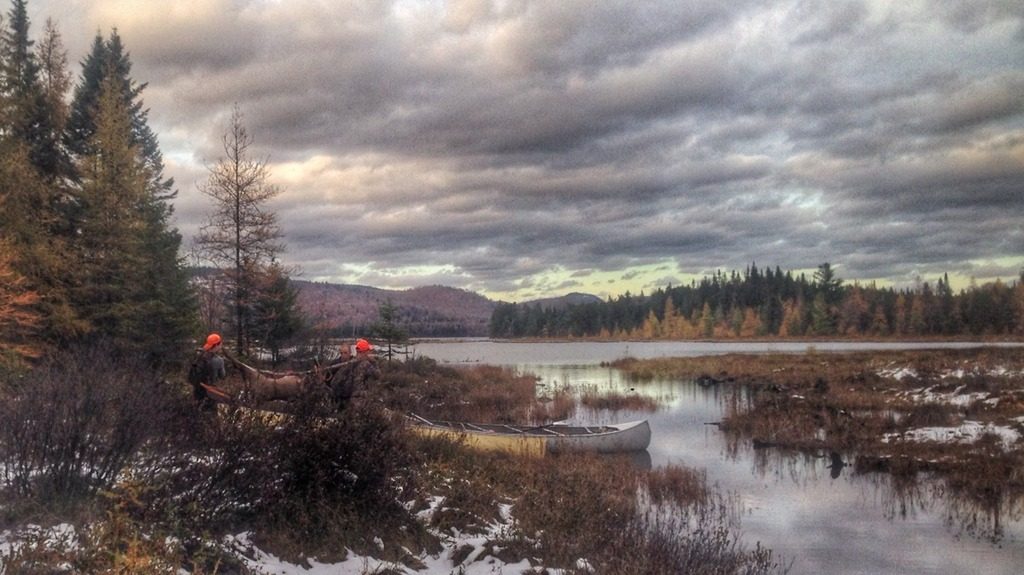 Good Shot: Sometimes it's really all about the photo. In fact, that's been one of our mottos at ADKHunter since this website was launched on the eve of the Northern Zone deer season back in 2000. We don't care if the hunter/trophy photos that come in are does, spikes, fork-horns or wall-hangers; if it's a good quality photo then we're more than eager to share and help the hunter(s) celebrate their success. The sporting heritage of the Adirondacks is defined on artwork and imagery. Do a Google search or Arthur Fitzwilliam Tate and you'll see what we're talking about. These are photos where the sportsman is immersed in the moment, forever.
Such is the photo included here (above) taken by Benjamin Moser of Crogahn, NY on a recent and very successful backwoods hunt earlier this season where he took 180-pound, 10-pointer. This photo says it all and those who have seen it just can't stop looking at it. We congratulate Benjamin on a fine, adventurous hunt that found him and his gang bringing out more than they brought in along with a photo and story for the ages.
•(11/14) Now is the time: As I write this we Adirondack hunters are coming off another slamming weekend of deer hunting. Many hunters are chiming in with either photos and/or stories of encounters with bucks big and small. The rut is on, bucks are active and some good hunting is happening. Perhaps it's the recent Super Moon or the fact that mid-November is typically when things go down up here. Whatever the case, it's happening and hopefully you've got some time to get out there and hunt. Southern Zone opens on Saturday but to this hunter it only means less competition, especially on public land. I'll go "south" either after I fill my buck tag or during the late muzzleloading season. For now it's time to be in deer camp, enjoying the November woods and these classic deer hunting days. I hope you are too. Check out our latest photos and be sure to send us yours!
•(11/9) On to the deer hunting: It's mid-November and what some like to call "Peek Weekend" is approaching. We're at the half-way point of the Northern Zone big game season and the rut is coming into full stride. Scrapes are really become more frequent and nearly every buck a hunter encounters is in the vicinity of a doe. We expect things to really crank up in the days ahead and will be watching Monday's Super Moon. We do hope that things cool off a little but still, it's not as warm as it was last year at this time. Meanwhile, some great photos have come in from successful hunters and some bucks continue to be on the heavy side.
Last but absolutely not least is the topic of the United States of America. This election is finally over and regardless of if your candidate won or not know that at least your Second Amendment rights and other matters pertaining to the outdoors are likely safer with the current President-elect than they would've been under his opponent. Now, let's put this all behind us and concentrate on hunting. That said, Friday, Nov. 11 is Veteran's Day and we at ADKHunter salute and graciously thank all of our Military Veterans
•(11/2) Finally, November: Although weekend temps might get into the 50s in some places, we may have turned the corner on the real warm weather just in time for the pre-rut and rut. Last week's snow, this week's rain and a few hard frosts should be knocking down some leaves and helping visibility. Right now it is all about buck sign and rubs and scrapes are starting to show up in abundance and hunters, including our own group, are seeing bucks trailing does already. The rain, and especially the snow, sure has helped and now deer don't have to travel to get water. So much for strategies around beaver ponds and other secluded water sources. Some nice bucks are being taken too and are coming in this year on the heavier side. While that is always expected in the early season I think you can attribute the lack of a harsh winter in as well. Good luck this weekend, keep the photos and reports coming and don't forget to check out our Facebook page.
•(10/24) Week 2 Coming Up: First, congrats to all of the hunters who cashed in on the change in the weather pattern on opening weekend, especially Sunday, and wound up tagging a buck. Our own group did well but so did so many other hunters and we've got photos (above post) from nearly every Adirondack county. Thanks for sending and keep 'em coming.
As for this weekend and beyond, it looks like after this cool down and even some snow we'll have a slight warm up and some showers. Perhaps the rain and recent frosts will bring down some more leaves, especially on the underbrush, which are being pesky when it comes foliating. As for buck sign, while many hunters have reported seeing buck rubs on trees of all sizes, we're just starting to hear reports of scrapes showing up so the rut, or at least the pre-rut is near if not here already. Good luck out there, have fun and be safe.
•(10/20) Change is in the Air: As I write this we are enjoying (if you will) the third day of this week that the temperature has hit 70 degrees or higher in the Lake George region. Needless to say the warm temps have made for a tough week of muzzleloading hunting. But a change in the weather is on the way and it will be a different extreme as by the time the weekend is out some areas in the higher elevations of the Adirondacks are expected to see up to eight-inches of snow. Yes, snow!
As much as we hunters love snow it will make for wet travels in the woods, especially given that the underbrush is still well foliated in many areas. Other parts of the region are expected to see heavy rains. So, it looks to be a wet opening weekend, but we know that won't stop the hardy ADK Hunters out there from going to camp and even going in the woods. Good luck and have a safe and fun opener.
• (10/17) Heat Wave: Other than a refreshingly chilly opening morning, the Northern Zone early muzzleloading season is off to a warm start. That's not much fun for deer and hunters alike, although as you'll see from the photos below some hunters have had some luck. There's not too much of a cool down in the forecast and the remainder of the week looks to be wet but still pretty warm, right on into the rifle opener. It's also very dry in the woods and many brooks have no water in them at all. Between the lack of snow last winter and lack of rain this summer, it is sure taking a toll. Something to think about when you head to the whitetail woods. The underbrush is also very thick and very green.
We need to note on here that in Region 6, WMU's 6A, 6F, 6J, and 6N are BUCK ONLY this year. Unfortunately DEC did not print this in the Regulations Guide (it is on their website) and apparently many hunters did not know this and some inadvertently shot does this past weekend. This is not the fault of these hunters; many of which who might not read a newspaper column or visit a hunting website like this one.
• (10/12) Smokepole or Crossbow: First, congrats are in order to all the youth hunters who ventured out for last week's Youth Deer and Bear hung. Successful or not, we hope you had a good hunt and thank your mentors as well. Meanwhile, the Northern Zone Crossbow season opened today (10/12). If you don't hunt with a muzzleloader, then the crossbow is a ten-day hunt. Otherwise it's only a three-day hunt so enjoy it while you can.
Moving on to the smokepole, the early Northern Zone muzzleloading season is Oct. 15-21, with next week's Big Game opener looming. We now have two opening days in the Adirondacks as deer camps will come alive for this weekends hunt. Keep in mind that in the western ADK's WMUs 6A, 6F, 6J, and 6N are buck only and are off limits to shooting does during the muzzleloader hunt. We hear from many hunters in the region who wish the entire Northern Zone were buck only, but that's another topic for another day.
Things are dry in the woods and what little rain is expected to come on Thursday will not likely help much. Other than the cool down this front will impose, which should make for a good crossbow hunt, temps are expected to be pretty warm for the MZ hunt being the 50s or 60s most days. Along with targeting food sources or driving bedding areas, keep an eye on your watering holes. As always, we wish you a safe and enjoyable hunt and hope you'll share a photo with us should you have some luck.
• (10/6) Youth Hunting Time: This weekend, Oct. 8-10 is the fifth annual youth deer hunt. Bear hunting has always been inclusive in the Northern Zone during the youth hunt simply because the season is already open. For the kids in the rest of the state they too can harvest a black bear this weekend. I'm a big fan of all of New York's youth hunts, but with the popularity of big game it is paramount to get these young hunters out and get a taste of hunting deer and bear. Recruitment and retention are key components to the future of hunting and these youth hunting opportunities answer that call.
This could be a good hunting weekend too. After an Indian-Summer like week with temperatures in the 70s in parts of the Adirondacks the thermometer is about to drop. Any change in temperature usually encourages deer activity so the timing could be right for a change in the weather for youth and archery hunters alike. 'Not to mention the beautiful fall foliage that usually accompanies Columbus Day weekend in the Adirondacks. Here's wishing all the youth hunters and their mentors a safe and prosperous hunt.
To learn more about New York's Youth Hunting programs, including regulations, click here
• (10/3) Nocturnal: It didn't take long for the deer to go nocturnal, at least in these parts (Lake George region). Prior to and early on in the first days of the Northern Zone bow season we got trail cam photos of bucks and also saw a few that were out of range. We also had some doe groups come in with the closest shot being about 45 yards. Thus, so far, no venison.
But already the deer seem to have gone nocturnal. Having hunted the past two days without a sighting but finding the cameras full of nighttime photos tells the story. Between other bow hunters, small game hunters and folks in the rural area sighting in their guns the deer get the idea pretty quickly. The good news is that there appears to be some acorns, at least in this region. They're not under every oak tree but if you've got them you've got some deer around.
• (9/26) It's Deer Season: 'Hard to believe that summer is over, fall is here and so is deer season. Northern Zone Archery opens Sept. 27 and while this gives the northern tier hunters a four-day jump ahead of the south it's not what it used to be. This hunter really liked the old four-day season on the previous year's tag (when I had one). There was just some incentive to it.
But, times change and tomorrow is still opening day and there's no doubt hunters will be in the woods. Food seems to be sporadic. Some apple trees have fruit, others are dried up and we're hearing very little reports of any serious mast crop like acorns or beechnuts. The foliage in parts of the Adirondacks is taking shape. As always, tell us what you're seeing along the likes of such things and please be safe, especially in tree stands, send us a photo if you have some luck.