3rd Annual King George Fishing Tournament on Lake George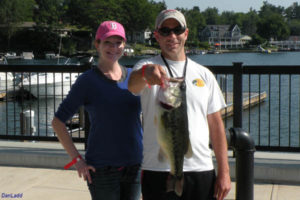 Lake George's third annual King George Fishing Derby kicks off on September 16 with new dates and new features designed to attract more anglers to the "Queen of America's lakes".
The annual derby was previously held during the lake's busy summer season and the new dates are meant to alleviate problems with recreational boaters and better fishing, especially for bass.
This year's Derby includes a new prize category for landlocked salmon, along with large and smallmouth bass and lake trout in the Senior Division. There will be no salmon category in the Junior Division that is under 16 years of age.
Registration for the 2017 Derby will be at the American Legion Post on Route 9L and includes free refreshments. Entry fee is $50.00 for adults and $30 for juniors. All entrants receive a free t-shirt and admission to the awards ceremony.
Fishing begins at 6am-6pm on Saturday and 6am-2pm Sunday, Sept. 17. Registration is 4pm-8pm Friday. Boats may launch at any site with weigh stations available at the Hague boat dock, Roger's Memorial in Bolton Landing and the Village's public docks in Lake George.
Over $15,000 in prize money goes to the winners with juniors receiving a variety of merchandise prizes.
Entries are available online at www.kinggeorgefishingderby.com and a local fish & bait shops.