DEC ANNOUNCES NEW STATE RECREATION TRAIL SUPPORTER PATCH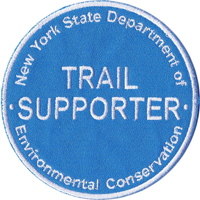 New York State Department of Environmental Conservation (DEC) Commissioner Basil Seggos today announced the release of the newly designed Trail Supporter Patch. The updated design is the first in a three-color series of patches and resembles the trail markers used by DEC to mark north-south directional trails, a blue round disc with white lettering.
The Trail Supporter Patch is available for $5.00 at all sporting license outlets or on-line for current New York State sporting license holders and will officially be available for purchase on March 1. Patch sale proceeds help maintain and enhance non-motorized recreation trails throughout the state. All monies raised from patch purchases will be deposited in the Conservation Fund's Outdoor Recreation, Trail Maintenance, and Development Account.
DEC remains committed to promoting all the amazing opportunities for hiking throughout the Adirondack Park, and is actively working with partner organizations and tourism promotion agencies to highlight and encourage responsible hiking on trails across the state. To further promote outdoor recreation in the state, Governor Cuomo's 2017 Budget plan calls for $70 million, up from $40 million last year, for the capital infrastructure program Adventure NY to improve access to state land, update campgrounds, and upgrade DEC's recreational facilities.
The patch was first introduced in 2007 to help raise funds to maintain trails across the state. To date, DEC has used funds from patch sales to build foot trail bridges on the Finger Lakes Trail and the Northville-Lake Placid Trail. It has also purchased materials for accessible horse mounting platforms at the Brookfield Horse Assembly Area, and erosion control structures at the Otter Creek and Independence River Wild Forest trail systems. Since 2007, sales of the trail supporter patch have raised $21,818.
For more information on the Trails Supporter Patch, visit DEC's website at http://www.dec.ny.gov/outdoor/36016.html.